ZenCache v151114 was released on November 14th, 2015. This release includes 2 important announcements, 3 new features, 7 bug fixes, and 6 enhancements. The new features include a new Clear Cache Options Menu in the WordPress Admin Bar, the ability to specify a list of Custom URLs to Auto-Clear, and a brand new Watered-Down Regex Syntax that is supported throughout the plugin.
Important Announcements
This will be the last release of ZenCache to support PHP 5.3 and the PHP APC extension. If your site is currently running on PHP 5.3, you will need to upgrade your server to PHP 5.4+ to run the next version of ZenCache. We're also dropping support for the outdated and buggy PHP APC extension.
For more details, please see the announcements here:
New Feature: Clear Cache Options Menu
A new Clear Cache Options Menu in the WordPress Admin Bar allows you to clear the cache for just the Home Page, the Current URL, a Specific URL, PHP's OPCache (if active), or the CDN Cache (when Static CDN Filters are configured).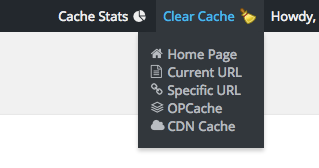 You can even customize how this menu is displayed in your Admin Bar using one of two styles; the default dropdown menu that appears below the 'Clear Cache' button, or a split menu that adds a new dropdown arrow:

New Feature: Auto-Clear Custom URLs
The other big addition is a brand new section inside the Automatic Cache Clearing panel that allows you to specify a list of Custom URLs that should always be cleared whenever ZenCache clears a Post/Page cache.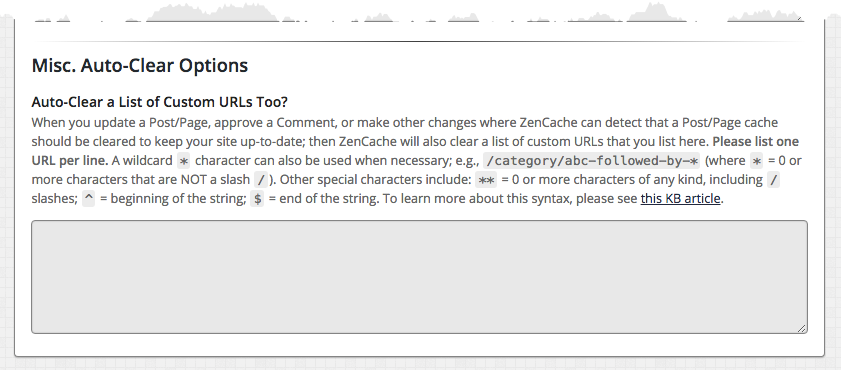 There are many possible uses for this feature. For example, if you've coded a Custom Archive page that lists the latest posts on your site, you could add the URL to the Custom URLs to Auto-Clear list and ZenCache would make sure that the cache for that page is always cleared whenever a Post/Page is published or edited. (ZenCache intelligently auto-clears WordPress-generated archive pages whenever necessary, but it doesn't know about Custom Archive pages that you may have built on your own.)
New Feature: Watered-Down Regex Syntax
True Regular Expressions (i.e., the full syntax) can be very handy for a variety of reasons. However, it is also quite complex--more complex than what most ZenCache users need. So for that reason, ZenCache now supports a custom, watered-down version of regex. It can be used in exclusion patterns, custom URLs, and more. This provides a good balance between flexibility and simplicity.
There are many possibilities with this new syntax, allowing you to gain fine control over patterns that you provide to ZenCache. To see examples for each section of ZenCache that supports this new syntax, please see this KB Article.
Changelog for ZenCache Pro v151114
Props to everyone who helped with this release, including @jaswsinc, @kristineds, @renzms, @bridgeport, @davidfavor, @MarioKnight, @clavaque, @Kalfer, and our 160 Beta Testers!
Upgrading to the Latest Version
ZenCache Pro users who have configured the Plugin Updater (Dashboard → ZenCache → Plugin Updater) should receive a notification to upgrade on the WordPress Dashboard. If you have not configured the Plugin Updater, you can download the latest version of ZenCache Pro by logging into your ZenCache.com account here. You'll find a download link for the latest version on your Account page. There's also a Release Archive if you need to access previous versions of ZenCache.
Please report bugs and feedback on GitHub. If you are a ZenCache Pro user and require priority support, please open a support ticket here.