This ZenCache release candidate includes 3 new features, 7 bug fixes, and 6 enhancements. You can download and try out this release using the link below. Please report bugs and feedback on GitHub.
The two most notable additions to this release include a new Clear Cache Options Menu in the WordPress Admin Bar that allows you to clear the cache for just the Home Page, the Current URL, a Specific URL, PHP's OPCache (if active), or the CDN Cache (when Static CDN Filters are configured).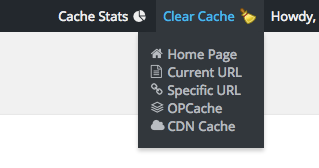 The other big addition is a brand new section inside the Automatic Cache Clearing panel that allows you to specify a list of Custom URLs that should always be cleared whenever ZenCache clears a Post/Page cache.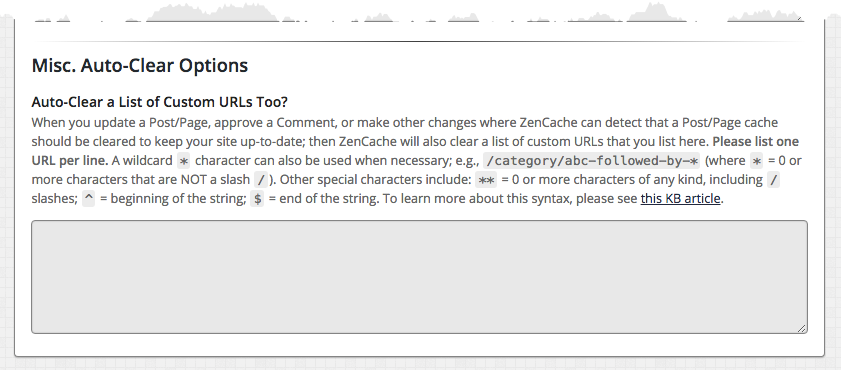 Download
Download ZenCache Pro v151105 Release Candidate (you must be logged into your account at ZenCache.com to access this download)
Installation Instructions
Deactivate and Delete any existing ZenCache plugin via Dashboard -> Plugins
Download the release candidate using the link above
Install the release candidate you downloaded by going to Dashboard -> Plugins -> Add New -> Upload and selecting the downloaded zip file
Activate ZenCache
Changelog for ZenCache v151105 (Release Candidate)
Please note that when this version leaves beta and an official release is made, the ZenCache Pro Plugin Updater will automatically detect the new version and ask you to upgrade. You must configure the Pro Plugin Updater (Dashboard -> ZenCache -> Plugin Updater) to be notified when there is a new official release.
Please report bugs and feedback on GitHub.