Comet Cache v161221 was released on December 21st, 2016. This release includes 1 bug fix, 7 enhancements, a new Pro feature that gives Comet Cache a new Mobile Mode option, a compatibility improvement, and an improvement to the inline documentation. Notable enhancements include improved Accelerated Mobile Pages (AMP) compatibility and Widget change detection.
New Pro Feature: Mobile Mode
This releases adds a brand new feature to the Pro version: Mobile Mode. If you run a site that uses an adaptive theme, where your theme design changes based on the type of device being used to visit the site, you can use this feature to tell Comet Cache to generate separate versions of the cache so that mobile users don't see the desktop version of the site and vice versa.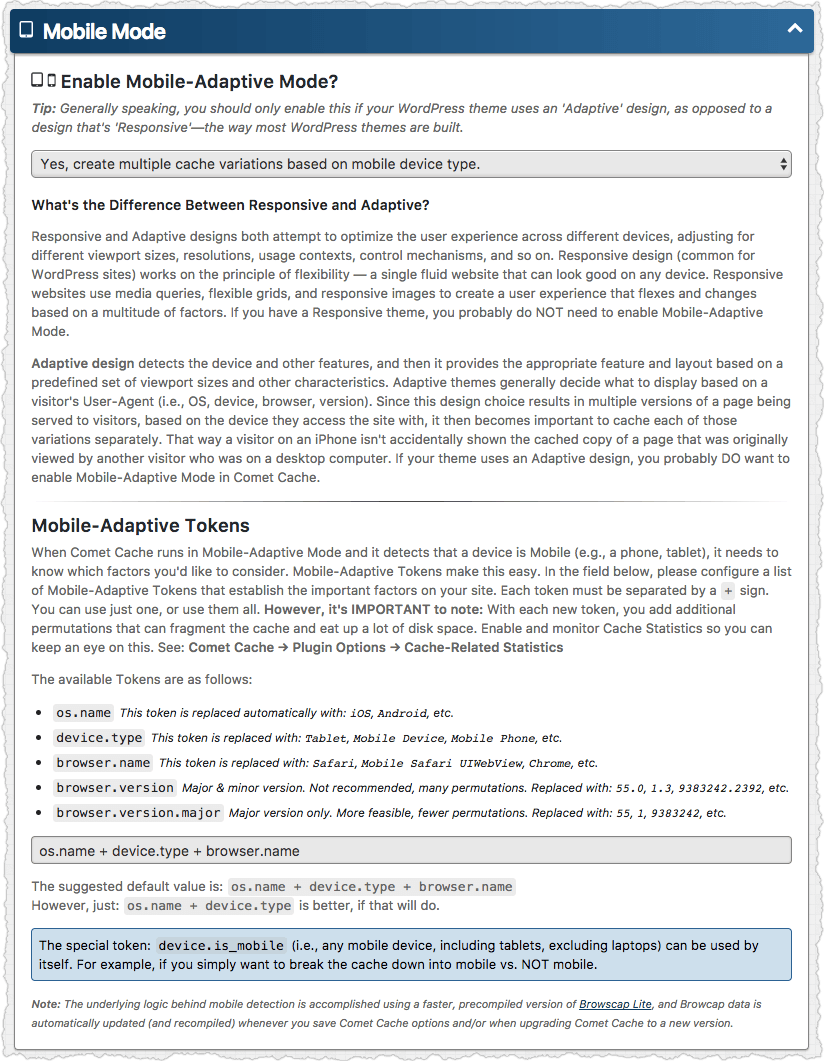 Changelog for Comet Cache v161221
Props to everyone who helped with this release, including @rudrastays, @isaumya, @codesman, @lkraav, @omriamos, @Li-An, @renzms, @jaswsinc, @kristineds, @raamdev, and our 179 Beta Testers!
Upgrading to the Latest Version
Comet Cache Lite users should receive an update notification from within their WordPress Dashboard (WordPress Dashboard → Updates).
Comet Cache Pro users who have configured the Plugin Updater (WordPress Dashboard → Comet Cache → Plugin Updater) should receive a notification to upgrade on the WordPress Dashboard. If you have not configured the Plugin Updater, you can download the latest version of Comet Cache Pro by logging into your CometCache.com account here.
Please report bugs and feedback on GitHub. If you are a Comet Cache Pro user and require priority support, please open a support ticket here.