We are very excited to announce the release of ZenCache, an advanced WordPress caching plugin inspired by simplicity. ZenCache is the successor to Quick Cache, a very popular WordPress caching plugin that has been downloaded over 1 million times and won acclaim for its speed, simplicity, and ease of configuration.

A Brief History of ZenCache and Quick Cache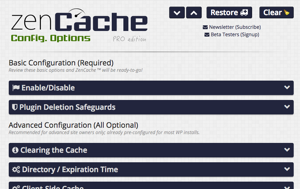 Five years ago Quick Cache was released with a handful of features. Over the years it has grown in popularity, quality, and capability. In the past year alone, a powerful HTML Compressor for minifying HTML, CSS, and JavaScript was added to the plugin along with an intelligent Auto-Cache Engine to automate the pre-caching of your site so that first-time visitors would get the fastest experience possible.
In early 2015, Quick Cache passed another milestone: 1-million downloads on WordPress.org!
But with all these new features, and several more on the horizon--CDN Integration, Memcached support, and Cache Statistics, just to name a few--we felt that Quick Cache had outgrown its name and its reputation as a 'simple' caching plugin. So, to break free from any notions of what the software might have been in the past, and so that we can continue growing and moving forward, we decided to rebrand Quick Cache as ZenCache, an advanced WordPress caching plugin inspired by simplicity.
Our primary goal has always been, and will always continue to be, building the fastest WordPress caching plugin out there, with the most straightforward and easy-to-use configuration possible. But we've also recognized a demand from the community to build in more features that will make this the best WordPress caching plugin available.
To that aim, we're launching ZenCache with a much-requested feature: CDN Integration!
New Pro Feature: CDN Integration
CDN Integration has been one of the most-requested features in Quick Cache. With the announcement and release of ZenCache we are excited to also announce the release of a new feature: Static CDN Filters. This feature allows you to serve some and/or ALL static files on your site from a CDN of your choosing.
This ZenCache Pro feature currently supports MaxCDN and Amazon CloudFront, however it will also work with many other popular CDNs.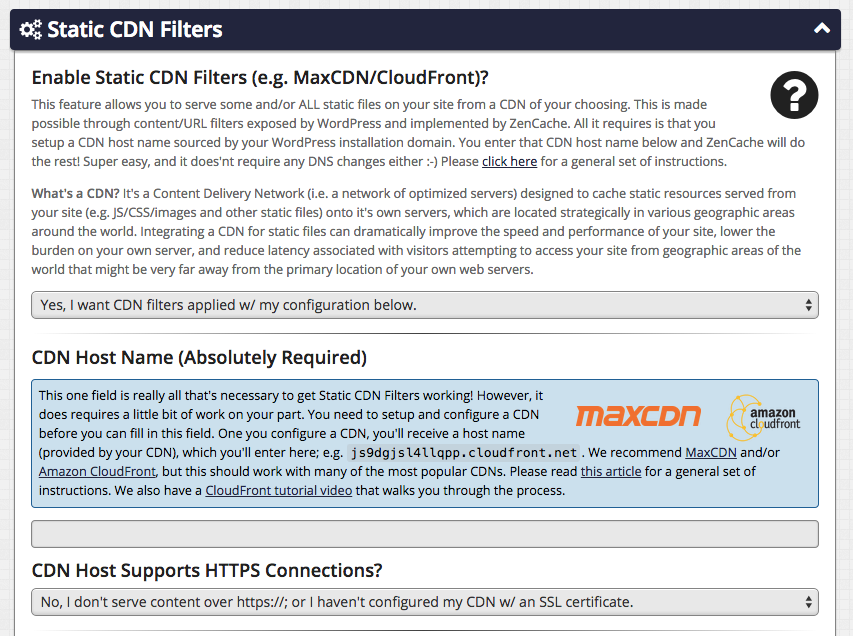 New ZenCache Knowledge Base
Adding to the ZenCache announcement, we're also announcing a brand new ZenCache Knowledge Base where you'll find answers to common questions, tutorials for tweaking and customizing ZenCache, and other documentation that we couldn't find room to include inside the plugin itself.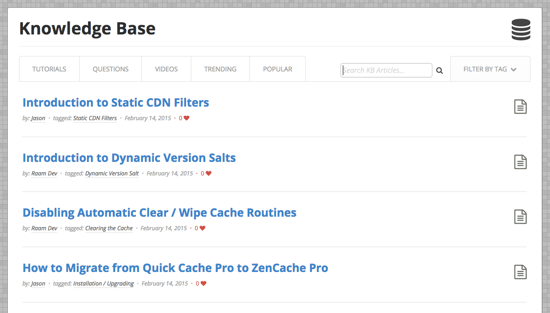 Migrating from Quick Cache to ZenCache
If you're already using Quick Cache or Quick Cache Pro and you have one of those plugins installed, you can easily switch to ZenCache; all of your existing Quick Cache options will be preserved when you install ZenCache.
For complete migration steps, please see the following articles:
Existing Quick Cache Pro license holders: Your existing Quick Cache Pro license will automatically be upgraded to a ZenCache Pro license the first time you login to ZenCache.com; there is no need to purchase a new license. Please follow these migration steps.
Will Quick Cache be going away?
Yes, at some point in the near future, updates to Quick Cache and Quick Cache Pro will cease and all future updates will be made to ZenCache and ZenCache Pro only.
If you are an existing Quick Cache user, we recommend that you upgrade to ZenCache today. You get everything you had with Quick Cache plus more!
Downloading ZenCache (Lite) and ZenCache Pro
For a complete comparison of ZenCache Lite and ZenCache Pro features, please see the Features page.
ZenCache Lite, just like Quick Cache Lite, is the free version of ZenCache and you can download it from WordPress.org or register for a free account and download it from ZenCache.com.
ZenCache Pro is our premium product and includes 3 years of support and updates. You can purchase ZenCache Pro from the Prices page. If you are an existing Quick Cache Pro license holder, you can download ZenCache Pro using your WebSharks-Inc.com login details. If you misplaced your login details, please reset your password on WebSharks-Inc.com.
Stay Connected with ZenCache!
We invite you to join the ZenCache mailing list where we make announcements about new releases and post updates about ZenCache. We're also on Twitter and Facebook and we'd love to have you connect with us there.